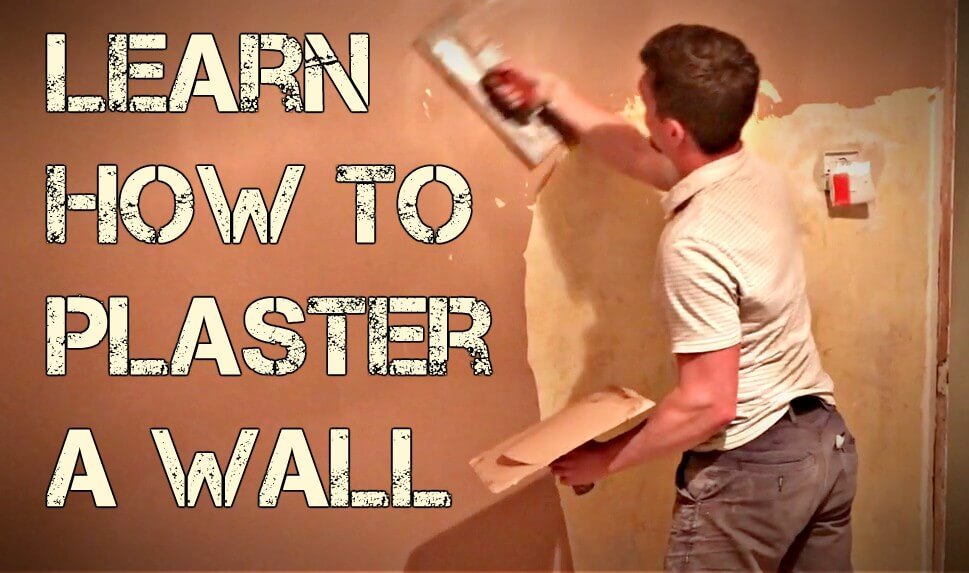 Starting anything new can be a seriously hard, challenging task. It takes time, requires a lot of patience, and can even cost you a lot of money! It's no different when you're trying to learn how to plaster.
It can be tough! You probably don't have a clue where to start and you might even think you can't do it! Well, guess what?
You can learn how to plaster a wall. Actually, anyone can learn how to plaster and here's how…
I'm going to help you with this mammoth tutorial which shows you everything you need to know on plastering for beginners. Yep, it's a big one packed to the rafters with tips and tricks from REAL plasterers.
This isn't fluff. This is the real deal!
We'll go through every detail and show you exactly what you need to do to start plastering. We just need you to do one thing: give it a go (you'll get nowhere sitting watching Coronation Street I'm afraid).
So what do we have for you? Here is a list of things you'll need to know and what you will discover:
How to prepare your walls for plastering
The best plaster to use for beginners
A full list of tools you need to acquire before you even start plastering
The one thing you need to learn before putting any plaster on the wall
A detailed guide on how to plaster a wall (with a full video)
The best plaster to use for beginners
How to prepare your plaster for painting
I must admit there is a lot to take in, but if you follow this simple guide, you can't go wrong. Anyone can do it (and I mean anyone).
If you want to save and read this post later you can click the link below to download this article into a PDF which you can save and use later on:
[postgopher name="Ultimate beginners guide" pid="226″]
Let's get to it – let's get you plastering.
Stage 1 – preparing the walls for plastering
Now there is one thing I need to get out of the way before you start anything. This section is probably one of the most important parts of this whole tutorial! Avoiding this stage causes so many plasterers major problems as it's all in the preparation.
As my old instructor used to say "failing to prepare is preparing to fail!" I've seen plaster fall from walls, I've seen plaster dry too fast, and I've even witnessed a ceiling fall down. You need to get this right and never cut any corners or neglect a section.
I'm going to go through the RIGHT way to prepare your walls for plastering. If you follow this advice you can't go wrong!
Strip Your Wallpaper
I don't want to teach you how to suck eggs but I have to say it. Make sure you strip all the wallpaper from your walls before you start anything. If you plaster over wallpaper then the paper gets wet, peels itself from the wall and takes the new plaster with it.
Make sure all the paper is off. You don't want any future problems due to a bit of tree dust! The best way is to soak your wallpaper with water and leave it to soak for 10 mins.
This allows the paper to absorb the moisture making it easy to scrape off. However, avoid steaming it because you can blow the plaster giving you more work than you need!
Wash Your Walls Down
Old buildings are often exposed to dirt and grime. It's this same grime that then gets onto our walls and potentially ruins a decent plastering project! How does dirt ruin plaster though?
If you skim onto a dirty wall the plaster can sometimes struggle to bond to the surface. If the plaster doesn't stick to your wall it falls off – it's literally that simple. I've had a whole plastered ceiling fall onto the ground because of dirty, grimy backgrounds.
Trust me, it's not worth the hassle. The best thing to do is simply wash all your walls with sugar soap. You mix this with water and apply it to your walls with a sponge. This removes any potential problems and provides a suitable base for your plaster to stick and adhere to.
It seems a petty task but it's worth the trouble!
Scrim tape your cracks
Every house has a degree of movement which can make many existing walls creak and crack as time goes on. This is completely natural (especially in timber frame housing). However, you still need to prepare the walls for plastering.
If there are any cracks then you need to cover them up with scrim tape. This is basically a roll of mesh that has a sticky surface which you stick over any joints or cracks. This allows the plaster to move with the mesh when there are any signs of movement.
If you're plastering plasterboard then this is the same stuff you use to cover the joints of your boards with. It's ideal and also prevents any old cracks from returning and damaging your walls.
PVA the walls
Remember the glue kids used to use to stick their hands together, that magical PVA glue that was the bane of every teacher's life. Well, this simple adhesive has turned out to be an amazing weapon in the world of plastering and construction. This is actually the bee's knees of the plastering world and here's why:
Every material has a rate of suction which is basically the speed an object absorbs water. Brick has a high rate of suction because it drains liquid at a very fast pace whereas plasterboard has a slow rate of suction because it retains water in a slower, less aggressive way. So if you plaster on brick it sets rapidly and drains all the moisture from the mix.
This is where PVA comes in. When you apply PVA glue to a wall it seals the background which slows the rate of suction on all backgrounds.
The PVA acts as a primer and is only really used to stop the plaster from drying too quickly. This prevents the walls from drawing all the moisture from your plaster making it stronger. It also gives you more time to get that perfect finish which is essential when you're plastering for beginners.
I've risked plastering an existing wall without PVA and it goes off rapidly. Trust me, you need to use this stuff!
How to Mix and Use PVA before Plastering
You need to mix the PVA glue with water. Don't use the stuff raw because it's just too strong and can actually be detrimental to your plastering. You need to mix at a ratio of 1 part PVA with 3 parts water (3:1). This is the best mix for plastering – other plasterers have different preferences so you can experiment, but this is the one I find the most effective.
You roll the mixed PVA over all your walls, wait for it to dry overnight and allow it to seal the surface. One coat can actually suffice but I would recommend that if you're plastering for beginners you apply another coat.
Return the day after and roll another layer of PVA onto your wall and wait for it to dry. Now there is a slight difference in this coat; you will find that as the PVA starts to dry is goes quite tacky and sticky.
When it's sticky and nearly completely dry you want to start mixing your plaster ready for skimming. When you apply your plaster to a sticky wall the plaster bonds at a stronger rate because it seals itself to the PVA.
This is the best way to prepare your walls for plastering and if you follow these steps you should have no problems with your skimming! Now onto the next bit:
Stage 2 – What plastering tools do I need?
Imagine if a golfer turned up with a set of old wooden clubs. His performance would be rubbish and he'd get nowhere in a championship because his clubs were as useful as 2 left feet. Having the right tools is just as essential when you are plastering.
I've seen some new kids turn up with a rusty, beat up trowel from the pound shop and expect some decent results. I'm sorry to say it but you need to buy the right tools.
You can get away with buying a few cheap tools but not the essentials. Cheap trowels get cheap results! I'll show you what you need and provide some recommendations for the best options.
Here is an essential list of the tools you will need to get you started with plastering:
Plastering trowel
Hawk
Bucket trowel
Water brush
Electric mixer
This video below shows you why you need the tools and a few suggestions to go along with it. You can simply get your own or you can follow my recommendations. It's your choice (even if I'm completely right in my advice 🙂
Plastering tool recommendations
Here's a short list of the tools I recommend you buy if you're plastering as a beginner. Again it's completely your choice but there is one tool I suggest you spend a little more on – the plastering trowel.
This is the one tool that provides all the results. You can hand mix your plaster, you can use a wooden hawk and you could mix on the floor if you really like but it's the trowel that gives you the flat walls. This gives you the walls you want for your home.
Here's my list of tools for your plastering adventures:
Marshalltown MPB145GSD 14×5-inch Gold Stainless Steel Trowel – This is one of the best towels I've ever used. Its stainless steel (no maintenance), it's easy to use and ideal for beginners learning to plaster. Marshalltown provides great trowels and this is an ideal option if you're new to the game. Trust me, it's a keeper.
Ox Tools P013718 Pro Bucket Trowel – I don't think you need to spend loads on a bucket trowel. They simply scoop plaster, but this one is a good choice. It's made with good steel, it's durable, and the handle is comfortable to use.
OX Pro Plasterers' Hawk – I've chosen this one for a very specific reason. It's a plastic hawk which means it is very light. I've often used an aluminium hawk because they're durable but I've recently bought a plastic one and they are brilliant. They're light, comfortable to use and easy to clean. I am converted to the plastic trowels and I definitely recommend one for you. They are the muts nuts!
Nordstand Heavy Duty Mixer – For under £80 this is a mean piece of kit. It has variable speed settings, a bit paddle which makes it easier for mixing and is very durable. It's definitely a good start for mixing your plaster with.
Fat Hog Paint brush – This is a seriously strong brush and ideal for cleaning your edges when plastering. I've had mine for 2 years and it isn't showing any signs of weakness. I can't find any definite links but if you look online for a fat hog brush you should find some results. Otherwise just look online for a plasterer's water brush but if you can find one of these, get one!
Faithful 5 Gallon 25L Bucket  – This is a great option for mixing your plaster in. It's easy to mix with an electric mixer, designed to prevent plaster from splashing everywhere and has a water gauge on the side to show how much water you're using. It is also durable and can withstand a lot of abuse; it's a winner.
Standard hand brush. I wouldn't be too fussy about this one – it's literally used to clean your tools and plaster with. You don't need anything expensive because its main purpose is to clean.
Stage 3 – What plaster do you use and how do you mix it?
Before you dash any plaster on the walls you need to know how to get the perfect mix. If you mix it too hard it will set too fast, but if you mix it too wet then it's an absolute nightmare to get on the walls. It's a tough game to follow but don't fear because we have the ultimate guide on mixing your plaster.
You'll need a few 12 litre buckets, an electric mixer and a big mixing bucket with measurements on the side. As for the plaster I recommend using British gypsum's multi finish thistle plaster. They also do a board finish but to be honest I think this stuff is the best to use.
It's easy to apply, it mixes to a nice consistency and it can be used on a series of different backgrounds. It is good gear and you can get a 25kg bag for about £6.50 from B&Q (they're the best price for plaster, no one can beat them). Now there are instructions on the back of the bags but I'll be honest now:
They are useless! For a company that makes the stuff, you'd imagine that they could give a fairly detailed guide on how to mix plaster. Anyway, they are useless so ignore them and listen to this solid bit of advice.
How to mix plaster
Here's a tip that you need to consider – always put the water in the bucket before the plaster. If you do it the other way round it's a nightmare to mix. Get the big bucket that you're mixing with and fill your two 12 litre buckets with water.
Using the measurements on the side of you mixing tub add 12.5 – 13 litres of water to the bucket. This is the amount of water you want to use for 1 bag of plaster – if you only want to use half a bag then its around 7 litres of water that you use.
Now I always mix my plaster in thirds at a low speed because it stops any plaster getting caught at the bottom of your bucket. If you mix a full bag in one hit then you might find a lot of unmixed plaster at the bottom of your mixing tub. This is a big problem when you're putting the plaster on the walls.
So add a third bag of plaster to the water, mix the plaster with your mixer and add another third. Now with you bucket trowel, you want to scrape the edges of your mixing tub. This gets all the plaster from the sides and stops any loose plaster being caught in the mix.
Now you add the final remainder of the bag, scrape the sides and give it a good mix, adjusting the speed of the mixer as you go. Plaster is a thing of preference and everyone likes their mix different but I find that you should get a good consistency with this amount of water. If it's too thick add a bit of water and if it's too runny for you then add a few scoops of plaster.
You will find at the beginning a struggle to get the perfect mix but in time you don't even measure the water. You just know how much plaster to use. It almost becomes a skill in itself but you need to start with a precise plan. Now it's time for the good bit:
Stage 4 – Learn how to plaster a wall
There are 7 steps to this and it's definitely a skill to learn but if you follow this simple method you should be fine. You won't get it perfect at the beginning but with time you will be a great plasterer. You just have to try and get better with time.
Here are the steps you want to follow:
Apply your first coat of plaster to the wall2
Mix a new batch of plaster and apply your second coat of plaster
Trowel over your wall and remove any high spots or ridges
Wait 10 minutes and flatten your wall to a smoother finish

Wait another 10 minutes and give it your 1st trowel over

Using your water brush give it a wet trowel
Smooth your wall with a final trowel over – roughly finishing at 2 and a half/ 3 hours
 
This probably sounds like gibberish and makes no sense at all. Let me expand on that and it will make a bit more sense. Let's get some ground rules out of the way!
You always apply 2 coats of plaster, you always keep tools clean and you always have to keep calm. One of the most stressful things with plastering is the plaster setting too fast. If it is hard it is tough to deal with but you can do it.
So let's take the stress out of this with a few little tips.
If you're starting out only plaster a small area to begin with.
Don't take too long putting the plaster on the wall and avoid playing with it too much. You can flatten and make it smooth as time goes.
Again, always keep your tools clean and always keep a few buckets of water for cleaning your tools and edges with.
Start with an easy wall avoiding angles and problematic areas until you are more confident.
Use a good trowel and always use a decent water brush.
 
So there are the ground rules, but the best way to show you how to plaster is with a video. I've created a full guide with times, steps and advice on how to plaster your first wall. I show the exact process behind these 7 steps and break down each element making it easier to understand. Its a lot easier to comprehend if you see it for yourself
If this sounds good then enter your email in the box below and I'll send the video to your email address. It's as simple as that!
If you're unsure on whether you can plaster on paint then follow this simple guide on plastering onto paint
There you have it, you are ready to plaster your first wall! You can do it and I hope you have found this tutorial useful! Feel free to leave any comments and remember you can do it