An essential part of plastering is knowing how to plaster a corner. There isn't big science behind it, but there are a few things you need to know to get a spotless finish. You can do it the old school way, but the way we'll show you is 10 times easier.
And the best bit? It's very easy for beginners! You just need to know what you're doing.
The best way to a perfect finish is by using a slimline angle bead (also known as a skim bead). This is the easiest way to plaster a corner. But what is a skim bead, how do I fix it, and how do I use it to get a decent finish?
This guide will show you everything you need to know about plastering corners. I'll show you how to fix the beads and some tips on how to plaster it.
Here's what this article will show you:
How to fix corner bead/ skim bead to the wall
What tools you will need for the job
The best technique for plastering corners
The ultimate secret to getting clean, spotless edges
Let's start with the basics:
What is a skim bead?
A skim bead is a thin piece of metal with a straight edge running along its length. The idea is to bond or stick the bead to your working background and plaster to the bead for a clean, precise corner.
The main problem is fixing the bead. This can often be an issue (if you don't know what you're doing)?
Luckily, I've got your back.
How To Fix Corner Beads For Plastering
(If you watched the video then the next question may how do I plaster the corner beads?
We have a video series showing you how to plaster. We'll show you the full process. We'll show you the 7 steps to plastering, we'll show you how to get the perfect mix of plaster and you'll also receive some bonus videos which you can't get anywhere else online.
If this sounds good simply sign up to the video course from the box below:)
Now back to the article in case you didn't or can't watch the video.
The first thing you need to do is measure and cut your skim bead. The tool you will need for this is a pair of tin snips. This is basically a thick, heavy-duty pair of cutters solely designed for snipping tin into thin pieces of metal.
You can get a cheap pair on amazon for a few quid, but I recommend you buy the Stanley Stanley Aviation Snip. I've had a pair, and they have lasted me 3 years.
They are strong, precise to cut with, and have never given me any problems. The best way to cut is to cut either side of the beads to the tip of the metal length and bend it side to side until it snaps off. This leaves a nice, clean cut.
The measuring is easy. Take the length of your corner and measure the length leaving an inch from the ground. It's never good to plaster to the floor in case there is water damage, so a gap is essential.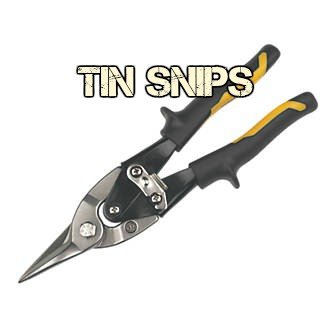 The gap depends on your skirting board, but leaving an inch is always the safe option. The next part is the tricky bit: fixing your skim bead.
The main issue is not how but WHAT you're fixing to. There are 3 backgrounds, you'll want to plaster a corner on.
Existing plaster
Plasterboard
Brickwork
The big problem is there is a different method to fix your beads for each of these options. It can be tough, but it's easy if you know how.
I know this article has a lot of information but you can save it if you like:
[postgopher name="plaster corners" pid="246″]WANT TO SAVE THIS ARTICLE? DOWNLOAD THIS POST AS A PDF >>CLICK HERE<< [/postgopher]
Let's start with the first option and go from there:
How to Plaster a Corner with Plasterboard
This is by far the easiest background to stick corner beads onto, and one secret weapon makes it effortless. I've not seen many plasterers use this tool, but believe me when I say it's easy.
The tool I use is a heavy-duty staple gun. You simply aim for the holes alongside the wings of your bead and fire your staples into the slots. It's made easy because most guns have two guide marks to help with your aim.
I find this to be the fastest way to fit your corner beads. Any stapler will do, to be honest, but the Arrow Arrow and the Stanley ones are especially good.
If you want another way, then I would recommend using Ring Shank nails. They are a lot better to use than clout nails and always get a good fixing into the timber behind the board. This is a highly effective way to fit corner beads for plastering, but I find the staple gun to be faster.
Plastering Onto An Existing Corner
Loads of people recommend using cout nails for this, but you know what? I will be controversial and say it's probably the worst way to do it! The biggest problems I've had with plastering a corner is by fixing the beads with nails.
It can damage the plaster underneath, it rarely gets a firm hold (especially with clout nails), and it is unreliable. After you have tried using clout nails, your bead is often hanging off, and the plaster has been blown from the damage.
The way I've found most effective is by sticking the beads with plaster. It takes a little more time, but it gets the best results. I'll show you how to do it here:
Mix a little bit of multi-finish plaster.

Apply the plaster to the corner of your existing wall.
Have a few thick blobs so the bead has something to stick to.
Plant your bead in the right position and push it into the plaster.
Clean off the excess from your skim bead and give it 30 minutes (minimum) before you start plastering.
It really is that simple. You aren't left with any damaged plaster. When set, your bead is fixed firmly to the wall and you don't have to worry about the corner bead coming loose. This is the best way to plaster an existing corner.
Fixing Corner Beads Onto Brick
This method is different and, to be honest, more advanced since this comes into the realm of rendering/ floating. It's a different art, but I'll give you a quick rundown.
It's a similar process to beading onto existing walls in the sense you fix your corner bead with plaster. The difference is you have to use a float bead.
This is basically a bigger skim bead. It has meshed wings and gives a deeper thickness to allow for render. I usually stick these with sand cement or bonding, depending on what you use to render.
You can use clout nails for this option because you can fix the nails into the mortar joints. However, I recommend sticking your corner beads with the plaster you're using. Same process as previous.
Apply your plaster to your corner and embed your bead into the mix. Clean your float bead and its edges and simply wait for it to dry. Easy!
You can form edges using straight edges and timber, but that is highly advanced and takes a lot of experience in plastering.
Plastering Corners using corner beads
OK, so you have your corner beads fixed to the walls and you're ready to plaster. I'll give you a few tips on how to get the perfect corner with a little secret for cracking results.
You mix your plaster as needed and get your tools ready for plastering. (Click this link for the guide on how to mix plaster).
Now there are 2 ways you can go about this but here is the best way.
Get your plaster and apply a trowel full on the outer edges of your bead to its entire length, so there are blobs of plaster running along the corner bead. The next thing is to trowel up from the bottom of the bead to the top, running parallel to the wall. This usually gives the length of bead a thickness of plaster.
Then, you plaster the rest of the wall as usual, so the whole area is covered. Now, the second part is the same. All you're doing is putting a second coat of plaster onto your wall and filling the bead where there are bumps.
The idea is to have a straight wall from your corner bead across. Like anything in plastering, your second coat fills any areas that are short in plaster and gives a suitable thickness to your finish coat.
It's the same with plastering a corner. You need to have enough plaster on the bead so there aren't any areas where the metal or indentations show. It is tough at first, but running your trowel parallel to the wall shows the areas that need more plaster.
With time, it gets easier – you need only to give it a go! Now, here is the ultimate secret.
How To Get The Perfect Plastered Corner
When the plaster is fully dried and you have finished plastering, one trick makes the world of difference.
You will see the corner of your beads retained excess plaster and maybe a few bumps running along the bead. The trick is to get your trowel and scrape the edge of the bead so any excess is scraped off. I often run my trowel until you're left with a nice shiny, crisp looking edge.
This ensures you have a clean edge and makes the finish look professional for painting. It can be hard to get used to plastering onto corner beads, but it gets easier. Practice makes perfect, and you will find your own way of doing things.
Just stay patient – you might get it wrong at first but just keep going. It's not rocket science, and you have the knowledge needed to get it right in time.
I hope this has helped, and I appreciate your attention during this article. Leave any comments – I'd love to hear your thoughts. Thanks again and get plastering!