Plastering has evolved massively over the last 10 years leading the way to some huge breakthroughs. Flexible trowels, foam hawks and even plastic trowels have helped us changed the way we use our tools, making plastering an easier occupation. Now another product that's changing the world is the Ox Speedskim!
The award-winning, revolutionary Speedskim has been the talk of the plastering world for the last 5 years.  The Ox company have created a tool that reduces fatigue and increases productivity whilst relieving the stress of everyday life as a plasterer. This was a monumental tool!
This product has been accepted but likewise, rejected by plasterers world over. Why is that? Is a tool we need or just a waste of time?
We're going to answer that question because this is the OX Speedskim review. We're going to give a full honest verdict. I must admit this is a big one for me; I've been looking at this tool for a good few years and never quite managed to try it.
However, I finally got the opportunity and now its time to give it some attention. Is it going to change the plastering world or is it just a fad? Is it just another shiny object for someone to play with or does it make plastering easier?
If you want a fast approach then watch my Youtube video with a full review of the Speedskim below. Its a good one:
If you're interested in the Speedskim then you can buy it here!
What is the Speedskim?
Some of you might be wondering what the Speedskim actually is? let us explain with a quote from the Speedkim website:
The new Speedskim® ST Flexible Rule has been developed to increase output and improve quality of finish – bringing the plastering trade into the 21st Century. Developed primarily for Plastering and Rendering Speedskim®can enhance and accelerate a range of other construction applications making it extremely versatile. With its unique flexibility Speedskim® ST out performs all other Featheredges and Darby's, achieving a flatter faster finish – giving the Plasterer the confidence to complete larger hits.

About, Speedksim website
This company have created a product with the main aim to help plasterers produce bigger hits without feeling the stress and strain of plastering huge areas. Now, this sounds great on paper but does it actually work? Have they managed to crack the formula?
[postgopher name="OX Speedskim" pid="132″]WANT TO SAVE THIS ARTICLE? DOWNLOAD THIS POST AS A PDF >>CLICK HERE<< [/postgopher]
On paper they have. It looks great, it feels sturdy to hold and it just looks like a really good piece of equipment. There's no doubt about that. It looks and feels amazing! They have produced 3 blades for the speedskim:
Blades For The OX Speedskim
ST: Blue plastic blade designed for flattening, smoothing and finishing finish plaster/ rendering
SF: Flexible steel blade designed for finished plaster
SP: Flexible plastic blade also designed for finishing plaster
I was really excited to start when I first got these products and I actually believed that it was going to change my life.
To give this product full credit, I need to walk you through the whole process. I used the Speedskim for a whole week before I came to my current conclusion and let me warn you that this review starts in quite a harsh tone.
I was so excited to use the Speedskim only to be left downhearted and cheated after day 1, (it does get better, trust me!):
Day 1 With The Ox Speedskim
I was skimming out a little summer house. Cosy little job with an easy stretch of walls to work on; the perfect opportunity for the Speedskim. I unboxed my tool and decided to use the ST blade.
According to the website, you can use this to flatten your plaster, smooth it out and even claims you can use it to finish with. Great! I was going to put it through its paces and try it for the whole process.
With shear excited, I started! I applied my first and second coat of plaster and unleashed my newly found secret weapon.
Disaster!
I tried it out on a wall first as this would give me a chance to get the hang of it because I was sure it could take some practice. I started from the top left side of my wall and worked across. Then I worked from the bottom right and worked across the remaining section of the wall.
I had the whole wall flattened in 2 easy strokes. Lovely!
It felt quite comfortable to use but there were 2 huge lines left across my plaster where I had used the Speedskim. Fair enough, it was my first go so it was expected. I continued to work from the bottom of the wall up to cross trowel my plaster and followed the same procedure until my wall was flattened.
Again, the Speedskim was leaving 2 huge scores across my wall.
I used my trowel to get the lines out and also had to correct a few areas where the blade had left some marks and blemishes. Again, it was my first go so it was expected. However, I used the Speedskim ST for the next 2 trowels in an aim to give the product a really good go.
I wanted this to work!
Same thing. It was leaving 2 huge lines through my wall. Not only that but it was leaving similar results towards the stage where my plaster was nearly dry which made it very hard for me to correct. I was also finding it hard to get my wall perfectly flat because I just felt that the blade was doing more harm than good.
In the end, I had to get my Superflex to correct the situation – I was fuming! It was a faulty product and it was doing more harm than good (in my head anyway)! I was actually gutted because I really wanted this to work.
I nearly gave up until I stumbled upon something on the internet!
Cut The Blade Or Bin It!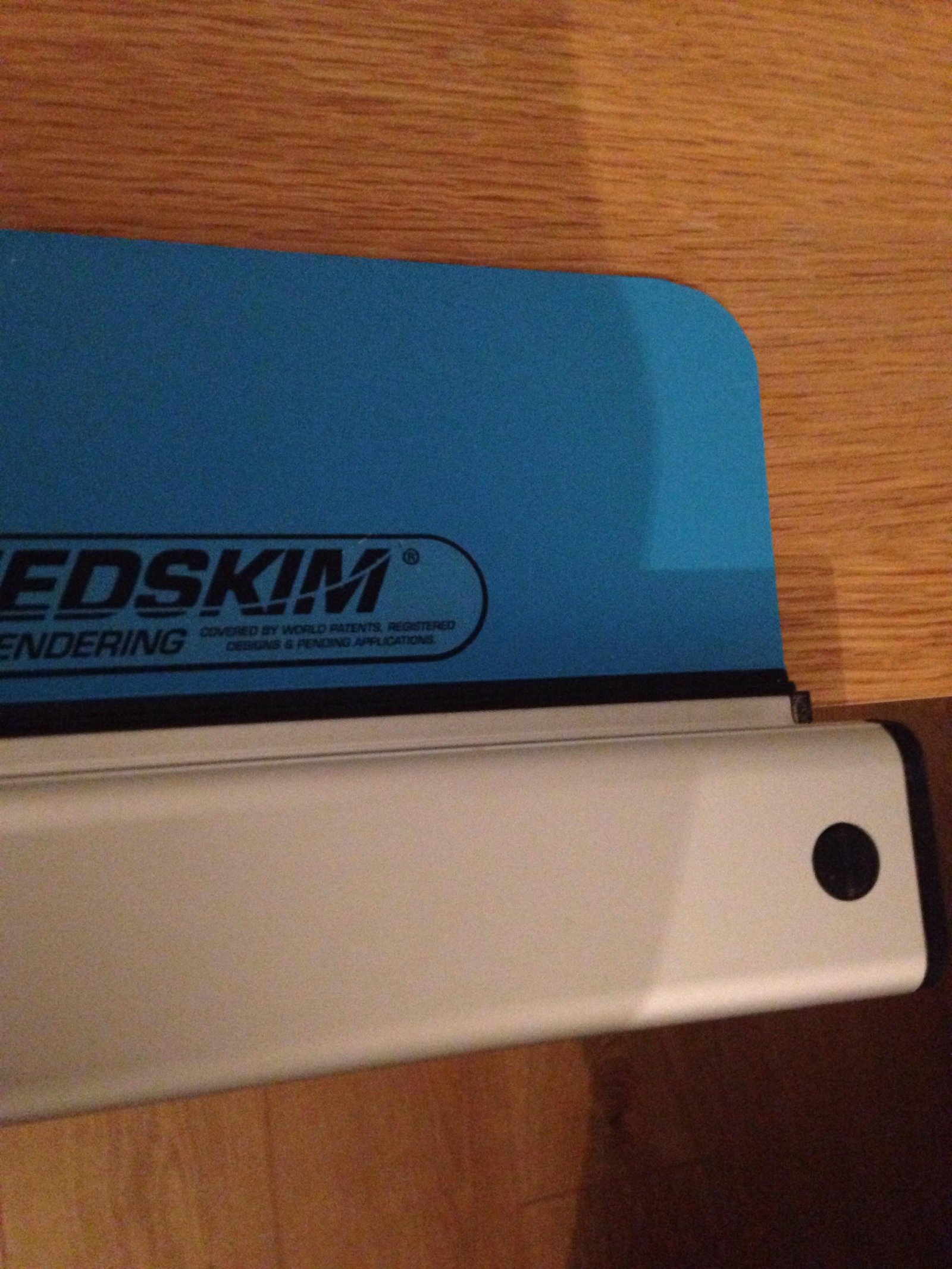 I was downhearted but convinced there was more than this. So I did what most people do and looked online for answers. After searching countless forums and google queries I realised that there was something missing:
Apparently, the best way to get over this continuous problem is to round the edge of the Speedskim ST blade. I was ensured that this was the best way to get over the scores it was leaving behind after use. I must admit, I was a bit apprehensive to go through with it, but in my head, I had 2 choices:
Cut the blade or bin it! It was that simple.
So I did! I rounded the Speedskim with my snips and gently rubbed the edges out with some fine sandpaper to remove any damaged areas that would damage the plaster. The next day I gave it one more chance; what a difference that made!
Day 2: Success!
This simple modification made a massive difference! One side was completely clear from drag marks whilst the opposite end was still leaving slight drags, however, it was 10x times better than before.
stopped paying attention to the ripples it was leaving behind and I started to pay attention to using the tool to get better results. I used it to flatten my second coat and I was actually starting to see things differently! It was back out 5 minutes later to start testing the product against dryer stages of plaster.
It flattened my wall perfectly!
I was really impressed by how this simple modification completely changed the Ox Speedskim. Towards the end of the day, I was finding confidence in using the tool, it felt comfortable to use and I was starting to actually see the benefits of using the Speedskim.
Not only that but the more I was using the Speedskim the better the results were.
It's clear that the blades obviously need a small break in period but I'll be honest, if I hadn't had round the edges I'm sure I wouldn't have used it again. This is what made me give it another chance! Now you might be wondering why I went through this whole spiel – why didn't I just say that it went well?
What You Need To Know About The Ox Speedskim
This tool obviously has a break in period (like most tools), and it is slightly annoying that Ox tools don't just make that as standard when a hell of a lot of people on the forums claim that they prefer the product rounded. However, for the minority who like it, that's fine.
It needs a bit of adjustment and the blades do improve with use. The big thing we NEED to know is this:
It isn't just the product that needs changing!
It takes quite a bit of adjustment to get used to using this tool. Some people don't even give it another chance and just decide that it's not for them. They stick to what they know and just use their Marshalltown trowels.
If It's not broken then why fix it?
I came to realise that I wasn't used to using a Darby when skimming. Its a totally new way of plastering that takes a certain amount of practice to get used to. I thought in my head it was like the first time I used the Refina Superflex:
It was perfect from day 1.
This isn't like that. The Ox Speedksim takes time to perfect and its something as plasterers, we need to get over and learn to use. We all love using our trowels but this might be a better way if we let ourselves use it to its full potential.
It takes some getting used to but when you start using this tool the way it should be used the something magical happens. Its starts to become brilliant!
The Ox Speedskim Review
I definitely recommend it for anyone who's thinking of trying it out. It's a great tool that gets better with time – you need need to get through the rough patch first (which I'm sure you'll experience.) However, it saves SOOO much time, relieves stress on my joints and actually leaves a great finish.
I used the Speedskim PF which is the plastic blades used for the finish! Cracking results and great for finishing plaster. I am fully converted now and I have to say that this is a product I'm going to use religiously. I must admit, I think there is probably a better product out there but as a system, its great.
That's because it's fully interchangeable. You can switch from blade to blade with ease which makes it very desirable!
The look and feel of the frame is a far more superior product to some of the tools on the market. I much prefer this product compared to the Refina Spats for example. It just feels right. So from hate to respect this tool has definitely taken me on a journey. But Is it worth buying?
Conclusion
This is a great tool. Period!
Buy one, give it a short period of grace and accustom yourself to this thing of beauty!
However, there is that slight nag in my head about the drags at the beginning of my journey. If Ox Tools addressed this problem without the use of snips and sand paper then maybe this tool would be more than brilliant.
This product could convert the stubborn plasterers who are stuck in their ways and actually change the world. (We all know It needs a little bit more work for that to ever happen.) However, if they could perfect the minor snags in the design of the blade then maybe we'll be seeing a lot more of these in the plastering profession.
You can buy the Speedskim for yourself and try it out!
A few more tweaks will make a huge difference and hopefully, we'll see them in the future. Thanks for reading my review on the Ox Speedskim and I hope you found it useful! For more reviews feel free to look around or check out our verdict on the Refina Superflex 2 for more reviews.