What do you need to start plastering? Your brand new to the art of skimming and you don't have a clue what you need. Before you start learning how to skim you should know about the plastering tools involved.
This article is the perfect start! This is the ultimate checklist on the tools essential to get up and going with your plastering. We'll show you exactly what you will need and the different options available for you on the market.
Here's a quick checklist:
Plastering Trowel
Bucket Trowel
Hawk/ Hand board
Mixer
Water Brush
Buckets/ Mixing buckets
These are the basic plastering tools for the novice plasterer. You will eventually need lots more but this is the primary list of tools you will want to start plastering. Let's see what each of them are and explore the different options available.
Lets get straight to it:
1) Plastering Trowel
Lets get the obvious tools out of the way. Yes, you will need a trowel – choosing the right one is the question we'll be tackling. There are literally thousands of plastering trowels on the market – but choosing the right one to start with can be a challenge.
Don't worry, were here to help. I've used loads of trowels and had my fair share of good and bad. Let's make sure you start plastering with the best.
What size trowel?
I suggest you buy a 14 inch (") stainless steel plastering trowel.
A lot of the older boys suggest you begin with a 12" trowel  because the smaller tools allow for more control. However I feel it's slightly counter productive.
The smaller trowels have less space to hold the plaster making it harder to apply to the walls. Not only that but the eventual aim is to have a plastering trowel that is at least 14". Most of the plasterers Ive met spread using a 14' trowel (especially the better plasters know.)
So heres my point. Why get used to using a 12" trowel to eventually change and get used to a new one? You might aswel start with the one you aim to finish on.
Yes it might be a struggle at the beginning but you will learn to control the trowel as time goes by. I recommend a stainless steel, 14" x 5" trowel from Marshalltown.
Marshalltown trowels are renowned for being some of the best on the market. I'll be honest I totally agree. Ive never had any problems with this company and there pre broken in trowels are a perfect starting point.
There durable, comfortable to use and always provide a good finish. The 5" width also allows a bigger surface area to get used to the transition of applying the plaster.
Marshalltown are definitely a good start. Don't go for the cheap, crappy trowels. They will not last, there extremely hard to use and often rust and corrode after use. Treat yourself to a decent, well reviewed tool.
It makes it so much easier to learn to plaster. There a bit pricier than most but will last for ever if maintained correctly. Definitely worth the investment, trust me on this one!
For more info read the article on the biggest plastering mistakes. 
2) Bucket Trowel
You need this to scoop you plaster up with. The description is in the name – these are used for your buckets and plaster. Again there are hundreds of options.
You don't have to be fussy with these. Look around but there are generally about £5 – £10 depending on which ones you aim to buy. Its not necessary to spend loads of money since it won't actually effect your performance.
3) Hawk/ Hand Board
The Hawk (or hand board) is the object that you holds the plaster for your trowel to scoop from. Again there are loads of options but heres what we recommend.
I have 2 options.
Foam/ Plastic Hawks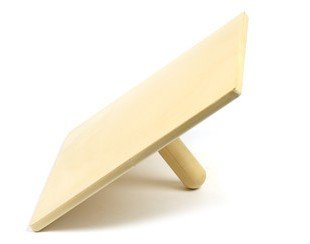 The plastic Hawks are perfect for plastering for beginners. There cheap, easy to use but more importantly they are extremely light. This is going to be big help when starting.
That's because when your holding a hand full of plaster for hours on end your arms (especially your fore arms), will start to get tired. Your muscles won't be used to the work.
Thats why the plastic hawks are brilliant for beginners. It will save you a lot of strain and hard work.
However they aren't that strong and they can often snap with time. There is another option if you want one that will last:
Aluminium Hawks
These Hand Boards are a lot stronger. They will last longer but are still quite light due to the light weight aluminium. They are a bit mor expensive but will definitely last longer than the plastic types.
You don't need to spend loads on a Hawk – they literally hold your gear. I personally use the Marshalltown hawks because there durasoft handles are comfortable during use. However a cheaper model will suffice!
4) Mixer
Back in the day all the old boys used to mix there plaster with a spade. However we're a bit more advanced and I'd defiantly recommend you invest in a decent mixer.
Again there a loads of different models to choose from in but we'll narrow it down for you. Let's start with the big guns!
Rafina Megamixer's
These are some of the best mixers on the market and probably the best I've used. Made in Germany they are known for there reliability,  durability and pure quality. They are designed for mixing all types of plaster.
I recommend you aim for the H frame models. This frame makes it very easy to mix the plaster whilst minimising energy. I prefer them to the D frames – I find them very awkward to be honest.
The Refina MEGAMIXERS, are well proven and robust power tool that will generate a thorough mix action for consistent results.
The MM30 Mega Mixer includes a MR3 160G 6″ (160mm) spiral paddle and has a new ergo design H handle for comfort.
There is a catch though. These bad boys are pretty expensive. Ranging from £360 they definitely cost a bit more than other models.
They make sense to the plasterer who is working everyday but there are other options for beginners:
Nordstand 1800 Heavy Duty Mixer
I must admit that his is a pretty decent mixer. It's a 230v mixer so you won't need a transformer and at 1800w it's a powerful little beast. It's a Heavy duty tool with powerful 900rpm motor.
It comes with a 140mm paddle which makes easy work of mixing the plaster. It's a decent piece of kit and pretty cheap for what you get.
You can get this from amazon for £75 – nearly a 5th the price of the mega mixer. I recommend you start with this. It's fast, effective and generally quite durable. It has good reviews and works perfectly for the novice user.
5) Water Brush
You're going to need a water brush, especially if your starting out. This is used towards the end and often used on the final coat of plastering. A little water stops the plaster from pulling and leaves a flawless finish.
Not only that but if your running behind and the plaster is setting then you can often save it with water. I'm afraid to say that this is inevitable. You are going to have times where it's setting too fast and your behind.
This is where the water brush will save you and your plastered walls. Trust me, it's essential
Water Brushes
You can use the brush to clean your edges and splash water onto your covered walls. So which ones to go for?
You can get 6″ water brushes which are solely designed for plastering. They can sometimes be expensive but I always feel it's worth the investment. Cheap brushes often leave the bristles in your plaster causing a lot of hassle.
I like this 4″ masonry brush from Travis Perkins. It's strong and lasted the rest of time – generally a good brush to use for plastering.
https://www.travisperkins.co.uk/4Trade-Masonry-Brush-4in/p/709630
I use the brushes that the decorators use. I get mine from a company called Fat Hog – the brushes are solid and have lasted the longest time compared to all the others I've used. They really are the mutts nuts!
Again they a bit pricey but have a look online – you might be able to find a bargain or 2.
Cleaning Brush
You'll also want to get a thick hand brush to clean your buckets and tools with. I wouldn't use your decent water brush for cleaning. You want it to last so buy a separate one for cleaning your buckets and mixers with.
I personally just use a plastic brush you get with the dustpans. There small and thin enough to get between the paddle of the mixers making it the ideal option. This should do fine!
6) Mixing Buckets
You will need this to mix the plaster in. You can get the big Gorilla tubs which are a brilliant option to mix with. There flexible, strong and generally last quite a while.
You can usually pick these up for about £10 – £12 for the big tubs.
You can get similar tubs in B&Q in the garden section and I think they sell from about £5. If you're looking to save money you could go there.
The other option is to get the solid mixing buckets. These last longer, are defiantly stronger and much easier to mix your plaster with. Due to its tall shape they prevent your mix splashing every where.
They are a bit more expensive and generally don't hold as much plaster. However In terms On longevity they are much better.
There one 25l bucket on Amazon that and costs around £8 – not too bad.
Water Buckets
Finally you will need some water buckets. You can pick these up from B&Q for about £1 so there an absolute bargain. You should aim to get at least 3 buckets.
Get the 12L ones because they are ideal for a bag of plaster. One bucket of water mixes a bag of plaster so it's the perfect measuring tool!
This concludes our list of the plastering tools you will need to start skimming. As mentioned before you will eventually buy a lot more tools but this is the perfect starting point. The only thing you need now is the walls to practice on.
Good luck and I hope you found this article useful. Cheers!